⚠️
SPOILER ALERT: Yes they can! And here's how we helped make them three times more effective than other campaign techniques.
The CLAIM Allianz is a civil society network, funded by Germany's Ministry of Family Affairs, to tackle racism and discrimination.
CLAIM's #KommMitt (Come With Me) project is a behaviour change campaign targeting an audience it calls the Established: comprising Germany's moveable middle.
This older group of parents and grandparents is well-connected and engaged in the community and tend to be right of centre in their politics. Their opinions carry weight in local decision-making.
"Having them on your side could be the balance between gaining community support on your issue or not," says project organiser Eoin Young.
#KommMitt aimed to show a measurable positive shift in attitudes of the Established towards Muslims by sharing stories of their everyday lives.

To learn which messages worked most effectively, so that campaigning organisations could use them elsewhere.
A hope-based communications strategy
We helped CLAIM Allianz develop a narrative framework around hope-based communications, based on their previous audience research and message development as part of their New Narratives Lab.
Our hope-based communications strategy identified four unifying values most likely to motivate positive change in attitudes:
Interdependence and solidarity;
Responsibility/Contribution/Participation;
Stability/Security;
Intergenerational futures.
We guided, supported and trained the team as they developed storyboards, produced and edited a series of short films based on these values for the final campaign.
So we could test which of those values resonated most with our target audience.
Developing a social media strategy
We then helped plan and deliver a targeted, paid social media campaign to reach 200,000 of the Established in the states of Nordrhein Westfalen and Badem Wuttemburg, using the PESO model.

We tracked the performance of six variations of the advertisements and constantly refined the messaging and targeting until they were performing as effectively as possible.
Almost 1-in-10 of the target audience saw the films. The 9% reach of this campaign is more than double that of previous campaigns targeting the movable middle.

Furthermore, it resulted in three times the expected engagement rate and earned 80%-90% positive responses.
Changing attitudes towards migration and Muslims
When CLAIM Allianz tested the hero film offline amongst the same target audience, they found that our creative execution was extremely successful.
By comparing two similar groups of our target audience, one of which had seen our hero film and one which hadn't, we can identify the difference that our film made to our audience's attitudes about migration and Muslims.
The people who watched our hero film were significantly more positive about migration and Muslims than those who hadn't.
In fact, watching the film prompted +6% points shift in attitudes (compared to the benchmark of +2%).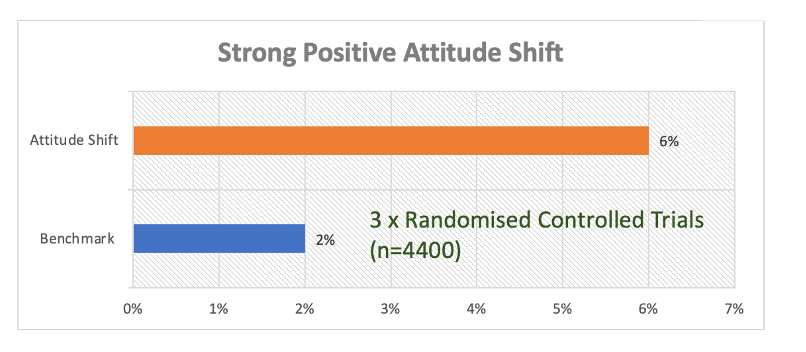 "A 6% shift may not sound like a lot, but even the benchmark of 2% can be the difference between a progressive candidate or a far-right candidate getting elected," says Eoin.
"The values of 'participation through professional lives' and 'care for intergenerational futures' show particular promise in shifting attitudes."
A key element of our contribution to the project was giving members of the CLAIM Allianz the tools to deliver future campaigns on their own.
This confidence and capacity-building is a long-term investment to enable hope-based narrative communications.
"The project has built the capacity of a team of narrative change specialists...who can lead or support this important work," concludes Eoin.
More information and detailed results from this campaign are available via the International Centre for Policy Advocacy ICPA.
200,000 reach in a well-defined key target audience
93,368 engagements: more than double benchmark expectations
3¢/view for videos in the paid social campaign
Clickthrough rate of 3.5%: more than double benchmark expectations
+6% positive shift in attitudes towards migration and Muslims: more than three times benchmark expectations
🥇
The team
🧐 Strategy:
Chris Reed
✍️ Content:
Gareth Morgan
🎥 Editing: Jason Dutch
👏 Eoin, Lisa, Julius, Flo, Maria and the #Komm Mit team