The EBA has a role both as a regulator and as an industry leader across the EU's banking and financial sector.
As part of its leadership role, the EBA (European Banking Authority) asked us to create a communications campaign which would help bring internal and external stakeholders with them on their sustainability journey.
Based on the EBA's environmental policy, we created a behaviour-change communications campaign to specifically address:
Travel
Waste
Energy Reduction
Procurement
Broader ESG factors
We recognised that any successful strategy needs to appeal to a broad base of stakeholders. In a way that staff, visitors, contractors and the whole sector could demonstrate their commitment to the EBA's environmental objectives.
We produced a comms strategy and implementation plan, as well as corporate and design/branding guidelines. Followed by graphics for posters, digital screens and other internal and external communications.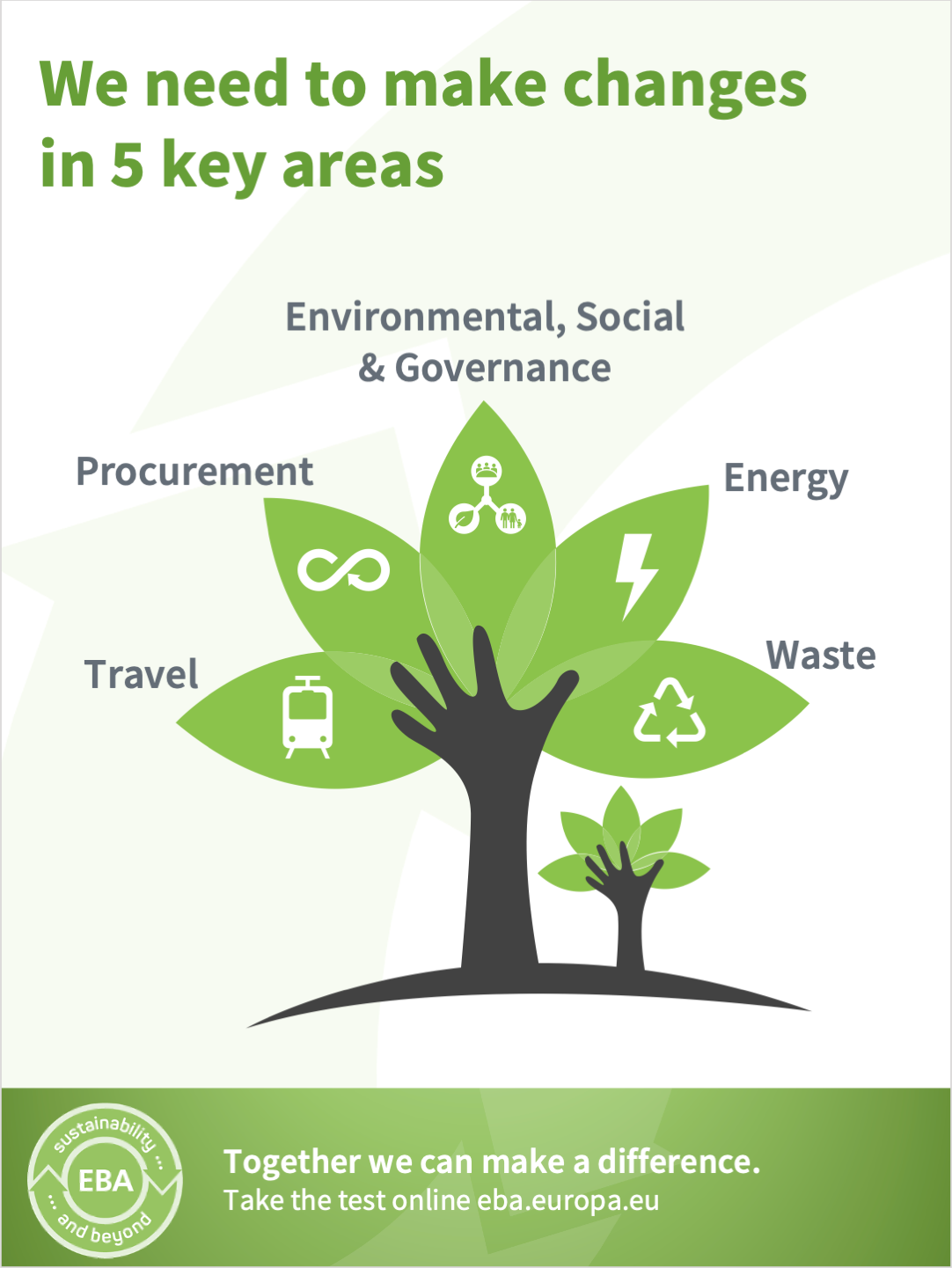 The results
In September 2022 the EBA became the first European agency in France to be awarded the EMAS certificate to recognise its environmental performance.
The communications campaign certainly contributed to achieving this prestigious certification. Client feedback includes:
Communication has been a key success factor for the implementation of EMAS at the EBA. Clear communication strategy, attractive visual identity, regular updates and information to target audiences, diversified communication channels and methods, smart theme 'Sustainability and beyond' and tagline 'Together we can make a difference' to name a few.
Already in July 2021, auditors noticed that the communication campaign was already very well established, and positive aspects were specifically the communication process and the awareness creation campaign of the organisation.
Again, in November 2021, auditors identified communication among the strong points during the internal audit, namely lots of communication and awareness raising actions (survey, Word Café, weekly staff newsletter, rollups), trainings for managers and staff, high quality communication strategy and productions, clear messages for staff
Finally, in July 2022, auditors reconfirmed communication among strong points of the Environmental Management System at the EBA. The EMAS communication and transparency was also positively recognised in-house during the EBA Operations Satisfaction Survey 2022.